常溫常壓下透過電壓導控進行三銅金屬簇電化學催化有效率與高選擇性地氧化甲烷至甲醇
Voltage-Gated Electrocatalysis of Efficient and Selective Methane Oxidation by Tricopper Clusters under Ambient Conditions
---
JACS
2022
,
144
, 9695-9706. Yi-Fang Tsai, Thiyagarajan Natarajan, Zhi-Han Lin, I-Kuen Tsai, Damodar Janmanchi,
Sunney I. Chan
*,
Steve S.-F. Yu
*
選擇性地將甲烷氧化為甲醇是困難的化學,此研究中,我們發展一個策略,將細菌膜蛋白與仿生觸媒等三種三銅金屬簇分子催化劑塗佈在電化學電池的陰極表面上,在氧分子與甲烷同時存在並超過特定的電壓運作下,於電解水溶液中,利用陰極表面將電子注入三銅活性中心後,可有效能地進行氧原子的轉移至甲烷,催化轉換成甲醇。此成果呈現迄今最佳的電化學轉化效能,常溫常壓下,單一三銅活性中心,每分鐘產製四十個甲醇分子,十二小時轉化輸出效率大於三萬個分子以上。此技術研發,可運用於綠電儲能的催化轉化,具現地進行氣液直接轉換成甲醇等液態醇基綠能分子的優勢。
A strategy has been developed for efficient electrocatalysis of selective methane oxidation under ambient temperatures and pressures. Activation of tricopper catalysts immobilized on the surface of a carbon electrode in the presence of dioxygen (O2) and methane above a threshold cathodic potential can initiate the O2 chemistry for O-atom transfer to methane. The catalytic turnover is completed by facile electron injections into the tricopper catalysts from the electrode. This technology leads to dramatic enhancements in performance of the catalysts toward methane oxidation. Unprecedented turnover frequencies (>40 min−1) and high product throughputs (turnover numbers >30 000 in 12 h) are achieved for this challenging chemical transformation in water under ambient conditions. The catalysts are air tolerant and do not support O2 activation unless voltage-gated. The technology is green and suitable for on-site direct conversion of methane into methanol.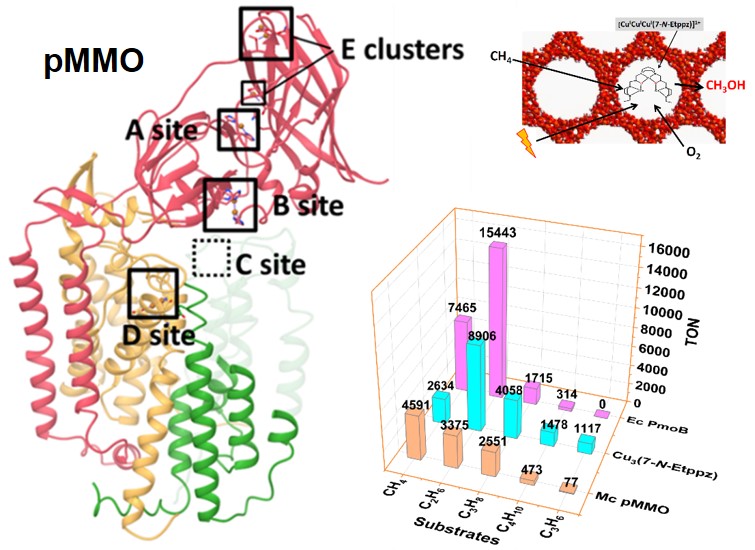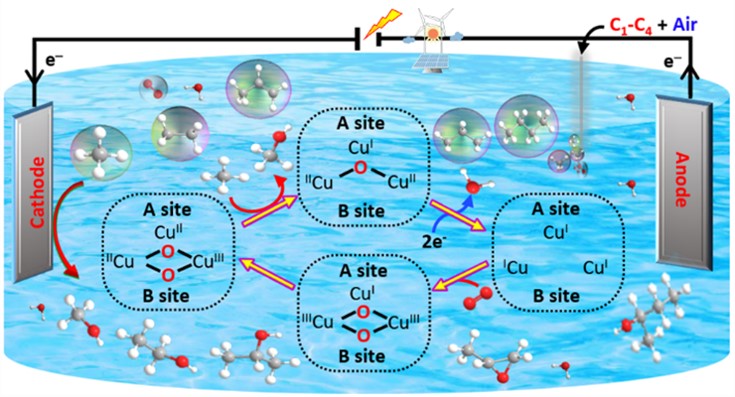 Catalytic oxidation of methane, other light alkanes. and propene is mediated by electrodes modified by the particulate methane monooxygenase (pMMO) and its recombinant protein and bioinspired catalysts.